MEET OUR DEVELOPMENT EXPERTS AT CPHI WW 2021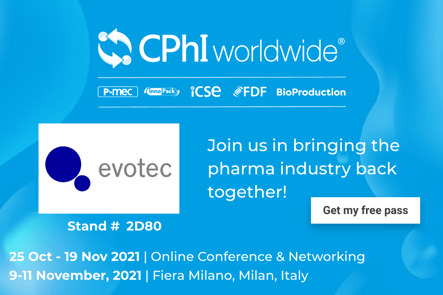 Evotec will be at CPhI in Milan at booth # 2D80 (Hall 2) ICSE zone

Our BD team will also be available at the online conference starting October 25th
---
LEARn MORE ABOUT our EXPERTISE ON SMALL MOLECULES AND BIOLOGICS
Drug substance, drug product development and GMP manufacturing from discovery to phase III clinical development programmes
Evotec provides flexible and tailored drug development solutions to the pharmaceutical industry, including API Development and Manufacture, Solid State Chemistry, CMC and IND enabling GLP/GMP programs, in support to a number of therapeutic modalities and areas.
Our programmes can mitigate risks and solve challenges ensuring robust and phase-dependent enabling solutions.
DRUG SUBSTANCE & DRUG PRODUCT CAPABILITIES
We have more than 25 years of consolidated expertise in developing and manufacturing API and Drug Product by applying DoE and QbD processes that are designed to provide the most robust and de-risked development solution.
API Chemical Development, Manufacturing and Material Science
Depth and breadth of scientific expertise, tools and methodologies enabling the delivery of industry-leading API route design and process development services, complemented by an integrated Material Science platform to enhance quality of API and Drug Product.
How to go from API to PAI - Learn about the power of using an integrated approach when transitioning a small molecule from drug discovery to drug development
Formulation screening and development
Our in-house, cross-disciplinary teams bring the expertise needed to navigate the complex formulation landscape and can accelerate your journey to the clinic, supporting you at every stage of the process, from early development to market approval.
Clinical Manufacturing
Our clinical supply capabilities cover a broad number of dosage forms (for oral and inhalation delivery), and can handle compounds up to OEB5 (OEL>0.5 μg/m3). We offer small scale commercial manufacturing for niche therapeutic indications, including rare diseases/orphan drugs.
biologics manufacturing (and much more...)
J.POD 1 US, our late-stage clinical and commercial cGMP manufacturing facility in Redmond, Washington, brings uniquely flexible biomanufacturing to our clients and partners. This innovative facility employs Just - Evotec Biologics' J.POD® technology enabling flexible capacity and operations. Utilizing J.POD technology, Just - Evotec Biologics is capable of efficiently running a variety of processes, including intensified fed-batch and continuous processing, to produce high-quality drug substance - from a few kilograms to metric tons.
J.POD® is an integral part of the Just – Evotec Biologics' J.DESIGN platform that integrates data analytics and machine learning through all activities involved with the discovery, development, and manufacture of biologics. This includes design of discovery libraries (J.DISCOVERY™), molecules (J.MD™), processes (JP3®) and the manufacturing facility, J.POD 1 US.
get in touch with our experts!